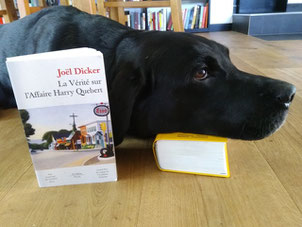 Of course this isn't novel in the "new" or "unusual" sense of the word, but literally, with a novel, which is my favorite way to practice reading foreign languages.
La Vérité sur l'Affaire Harry Quebert by Joёl Dicker is such a popular mystery that there's no need for yet another article raving about it. I just wanted to say that if you're learning French and you can read YA novels, then you can read this. The language is simple and straightforward, there are no convoluted sentences or abstract concepts which are often hard to understand in foreign languages. I don't even know French and I was able to read it—with a dictionary, obviously.
Also, don't be put off by the length of the novel—about 850 pages—but see it as a positive thing because once you get into it, the story will pull you along all the way to the end, and that's a lot of (entertaining) French practice for just a few euros or dollars!
It took me about two and a half months to get through this because it is mentally taxing to read in a new language (okay, I did move into a new house in between too…)
At first I was only able to read about ten pages at a time, but somewhere around the middle I was surprised to notice that I was reading up to fifty pages an evening before my brain went on strike and refused to continue deciphering the text. Also, the further I got, the less I needed the dictionary. My friend Martina, an avid reader who does know French, surmised that it might be because authors tend to use the same vocabulary throughout their books and so at some point you just get used to it and recognize the words. I think she's right. And, again, context is the most important key. Give it a try!
More French reading practice: Le buveur d'encre and Practicing Reading French with Childrens' Books