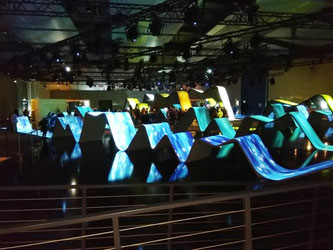 Who would've thought that I would miss the shoulder to shoulder crowds shuffling slowly through Hall 3 where the big publishers show their books? The hot sticky air that comes from thousands of people crowding around the latest publications. The long lines to get lunch or coffee or to use the women's room.
This year the Frankfurt Book Fair had fewer visitors, fewer publishers, fewer books, and it was less international. It felt rather subdued, sedate, and calm.
So even though I was overjoyed that the fair took place this year, I missed that hustling, bustling buzz, that crackle of excitement that is normally in the air. And I felt bad for Canada, the Guest of Honor. First the book fair was cancelled in 2020 and even though they had a pavilion this year, I don't think they quite got to experience the usual vibe of this fabulous book fair.
Still, it was one performance by a Canadian hoop dancer that drew a crowd on Sunday afternoon and exuded the magic that was missing elsewhere on the grounds. Dallas Arcand (aka DJ Krayzkree) held an audience spellbound and his last performance was a wild blend of traditional and electronic music. After looking him up I discovered that he is world-renowned and has performed at the 2010 and the 2012 Olympics. Take a look at his website since I was too mesmerized to take a photo during his performance.
Here is a list of a few books on display at the Canadian pavilion that caught my eye and that I jotted down in my notebook:
The Innocents by Michael Crummey
Survival by Margaret Atwood
A Trio of Tolerable Tales by Margaret Atwood
Hateship, Friendship, Courtship, Loveship, Marriage by Alice Munro (Apparently a book of short stories for people who don't usually like short stories much. That would be me.)
Le Grand Nord-Ouest by Anne-Marie Garat
Madeleine Thien (multiple books)
Fifth Business by Robertson Davies
À train perdu by Jocelyne Saucier
American War by Omar El Akkad
Recipe for a Perfect Wife by Karma Brown
Keeper 'n Me by Richard Wagamese
The Last Neanderthal by Claire Cameron
Crow Lake by Mary Lawson
By Gaslight by Steven Price
Volkswagen Blues by Jacques Poulin
Inspector Gamache mystery series by Louise Penny
And the one that stood out most because of the gorgeous photographs:
Blanket Toss Under Midnight Sun. Portraits of Everyday Life in Eight Indigenous Communities by Paul Seesequasis