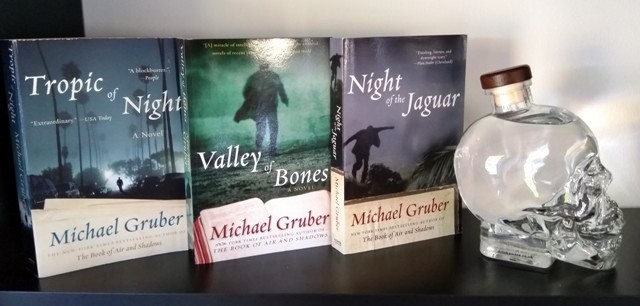 Great storytelling, magical realism, and a Cuban-American detective in Miami.
What's not to like?
"She hadn't fallen in love with a fictional man like this since the day she met Jimmy Paz in the pages of Michael Gruber's novels. Jimmy was a Cuban detective who could cook and had a weakness for intelligent women."
(This is a passage from Chapter 19 of my own novel and even though I am not Vera, my character likes some of the same books I do.)
During the past few years I haven't read many mysteries/thrillers in English because I came up with what I thought was a clever plan: to read books of this genre mainly in foreign languages so that I could get some language practice at the same time. It's the only way to keep the "books I want to read" list under some semblance of control (Ah, the lies we tell ourselves…)
But one of the exceptions I made was for the Jimmy Paz novels and I ended up reading all three of them like a woman possessed. Which makes sense since there is magic within the pages.

Jimmy's mom owns a Cuban restaurant in Miami (where he often helps her out) and—as he eventually finds out—she also practices Santería. So when strange and gruesome murders start happening, things that can't be explained by logic or science, her knowledge comes in handy during Jimmy's investigations. In the first novel (Tropic of Night), he also gets help from a woman named Jane Doe who has studied unusual things during her travels in Africa. (Before you begin reading, it might be helpful to know that there's a glossary of terms at the back of the book.)
The novels were so gripping that there must have been some kind of sorcery involved in writing them. At any rate, Michael Gruber is a wizard when it comes to storytelling, and the Jimmy Paz novels are definitely not your run-of-the-mill mysteries. I'm not exactly sure how to describe them. Maybe literary fiction wrapped around a mystery?
Here are the novels in order:
Tropic of Night
Valley of Bones
Night of the Jaguar