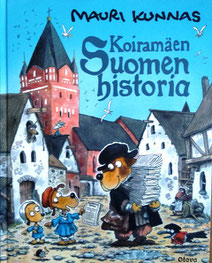 A Doghill History of Finland
by Mauri Kunnas
When my boys were young, I spent countless hours reading out loud to them from Mauri Kunnas books. They literally could not get enough of them, wanting to hear the same stories over and over again.
Luckily all books by Mauri Kunnas are fun for adults as well; both the stories and the illustrations, and they were also my favorite books to read out loud. So much so, that no matter how old I get, I still can't resist buying them.
A Doghill History of Finland is a colorful and amusing romp through Finnish history, from the 16th to the 19th centuries with the typically delightful illustrations that make up all of Kunnas' books. It seems that no matter how often you look at the pictures, you always discover something new, and in this one you will also learn something along the way. History does not have to be boring! It was published in 2017, when Finland celebrated 100 years of independence.
I would recommend any and all of the Mauri Kunnas books, they are the cutest children's books you could possibly imagine.
Oh, and on the last page of A Doghill History of Finland there is a quote from Axel Oxenstierna, a Swedish statesman, taken from a letter he wrote to his son in 1648:
"Oh my son, if you only knew with how little wisdom this world is governed."
Seems that some things don't change much throughout the centuries…