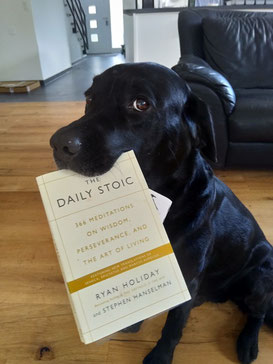 I just moved from a house we'd rented to the house we've been building, and the only book I had time to read during the moving phase was The Daily Stoic by Ryan Holiday and Stephen Hanselman.
This book is oh so good!
I'm reading through it a second time now, one page every day, because that's how it's set up. For each day of the year there's a quote from either Epictetus, Seneca, Marcus Aurelius, or another philosopher, accompanied by an explanation or commentary.
Each month also has a theme; June's was "problem solving," which is something one needs to do a lot during the last phases of constructing a house and moving—especially when you move an entire household on your own without a moving company.
My favorite page was from June 8th:  the heading for the day was "Brick by boring brick" (you see how apt that was!) and the quote for the day was from Marcus Aurelius:
You must build up your life action by action, and be content if each one achieves its goal as far as possible—and no one can keep you from this. But there will be some external obstacle! Perhaps, but no obstacle to acting with justice, self-control, and wisdom. But what if some other area of my action is thwarted? Well, gladly accept the obstacle for what it is and shift your attention to what is given, and another action will immediately take its place, one that better fits the life you are building.
                                                        —Marcus Aurelius, Meditations, 8.32
I read that page multiple times…
On January 1st I sent my sister a photo of the December 31 page, which is titled "Get Active in Your Own Rescue," and a few hours later she'd ordered herself a copy based on that one page!  Since then, we've had numerous WhatsApp conversations about The Daily Stoic, mentioning quotes we liked or thought were especially relevant, and—maybe because we live so far apart, she's in Southern California and I'm in Northern Germany—there's something very pleasurable about knowing that we're reading the same texts every day.