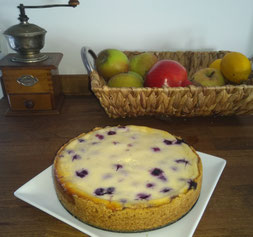 Predictably, a few Finnish characters found their way into my novel, An Unconventional Marriage …
Elsa, the woman who Vera observes plunging into the icy water at the beach; Jukka, the hunky "Nordic god"; and his cousin Mia, who knows how to fly a helicopter but doesn't know how to make coffee. Jukka is a chef, and during the story, Vera bakes a blueberry pie using one of his recipes.
In August, a friend of mine sent me a message saying that she was out picking blueberries and would I please send her my blueberry pie recipe (that's how I knew she was reading my book). Unfortunately we were busy moving and I had packed all my recipes away already, so I found the traditional Finnish recipe on the internet and translated it into German for her.
I have decided to give you my sister's version—she tweaked it a little and converted it into US measurements. I will mention that one of the many fabulous things about my sister Marjaana is that she has a culinary school degree and knows her stuff when it comes to food and recipes. Not only that, this version was printed in Sunset magazine some years ago!
The original recipe calls for the Finnish dairy product kermaviili, a curd cream made with buttermilk culture which is near impossible to find outside of the Nordic countries. Fortunately,  sour cream works just as well, as do Schmand and Quark if you are in Germany.
Hyvää ruokahalua, Guten Appetit, and enjoy!
Blueberry-Sour Cream Pie
Ingredients:
About 3/4 cup all-purpose flour
About 1/4 cup (1/8 lb.) butter or margarine, cut into chunks
1/4 cup firmly packed brown sugar
1/4 teaspoon baking soda
1/4 teaspoon ground cardamom
1 large egg yolk
Filling:
1 cup regular or reduced-fat sour cream
1 large egg
1/2 cup granulated sugar
2 teaspoons cornstarch
1 teaspoon grated lemon peel
2 cups blueberries, rinsed and drained
1. In a food processor, whirl the flour, butter, brown sugar, baking soda, and cardamom until fine crumbs form. Add egg yolk and whirl until dough holds together. (Or mix dry ingredients in a bowl; add butter and rub in with your fingers until fine crumbs form. Add egg yolk and mix with a fork until dough holds together.)
2. Butter and flour a 9-inch nonstick pie pan. Press dough evenly over bottom and up sides of pan.
3. Bake pastry for 8-10 minutes at 325°F.
4. Meanwhile, mix sour cream, egg, granulated sugar, cornstarch, and lemon peel until well blended. Stir in blueberries. Scrape mixture into hot pastry.
5. Return to oven and bake until center no longer jiggles when pan is gently shaken, about 30-35 minutes.
6. Let cool on rack for about 1 hour. Cover and chill until cold, at least 1 hour or up to 1 day.
Note about my pie picture above: I did not have a 9-inch pie pan and used a smaller one, so it came out a bit higher, more like a cake than a pie ...