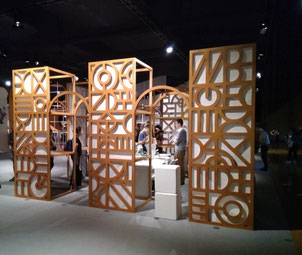 Walking onto the grounds of the Frankfurt Book Fair each year is exciting. It's like entering an enormous treasure chest glittering with new publications. You rush around from stand to stand, seduced by beautiful book covers and posters advertising the clever new book by your favorite author. Each volume you greedily reach for might hold the promise of hours of entertainment, knowledge, innovative ideas, or that piece of wisdom you've been searching for all your life.
It's exhausting but fun. The Frankfurt Book Fair is colorful and lively, buzzing with publishers from all around the world, readings, live interviews, authors signing books, food trucks and coffee stands, booklovers milling around or sitting in armchairs completely engrossed in some new find, and I love the fact that there are cosplayers in fantastic costumes everywhere. The atmosphere is casual and friendly – you rarely see a grumpy face there. (At least not on the weekends when the general public is allowed in…) If you should get tired of looking at books, you can always escape to the Gourmet Gallery, Stationery and Gifts, or Calendar Gallery. The Self-Publishing area seems to grow each year as well.

Georgia was the Guest of Honor this year, and the first thing that comes to mind is that the Georgian alphabet is absolutely gorgeous! When I told a woman at the Georgian pavilion that the writing looked like art to me, she smiled and asked if I'd like to see my name written in Georgian. Of course I did!

However, you don't have to learn Georgian because translations are available in many languages. I started reading Dagny, or a Love Feast by Zurab Karumidze and I also have Nino Haratischwili's Das Achte Leben waiting for long uninterrupted evenings (the German edition is 1275 pages). Nino Haratischwili is a young Georgian author and theater director who lives in Hamburg. Das Achte Leben has been translated into English (The Eighth Life) by Charlotte Collins and Ruth Martin and you can read a short excerpt of it here: https://www.no-mans-land.org/article/the-eighth-life/
Other Georgian books that caught my eye were Der Held im Pardelfell, a Georgian fairytale, illustrated by Kat Menschik and the novels by Zaza Burchuladze, a Georgian author who lives in Berlin.
Of course I always make a beeline for the Finnish stand and one book that particularly stood out this time was Power Animals of the North by Maaretta Tukiainen, with beautiful illustrations by Markus Frey. (Pohjolan Voimaeläimet in Finnish) It was quite disappointing not to be able to buy Finnish books at the stand this year.
The Gingko Press stand drew me in with their colorful book covers and I sat there for quite some time completely engrossed in books like: The Art of the Sketchbook and Emek. The Thinking Man's Poster Artist.  They also had Meet You at the Café. Beautiful Coffee Brands & Shops. (SendPoints Publishing Co. Ltd.) which is not the type of book I necessarily want to have, but just love to leaf through once or twice.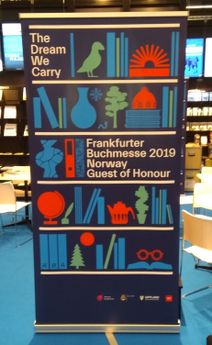 Norwegian books are on the list now, especially since Norway is the Guest of Honor in 2019. Here are a few that sound interesting:
Your Superstar Brain. Unlocking the Secrets of the Human Mind by Kaja Nordengen
Finding Places. The Search for the Brain's GPS by Unni Eikeseth
Diving for Seahorses: The Science and Secrets of Memory by Hilde Østby and Ylva Østby