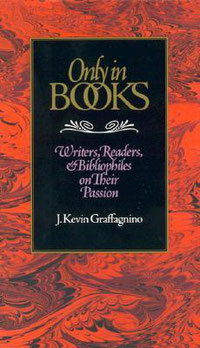 The quote above is from Thomas Jefferson.
J. Kevin Graffagnino
Only in Books: Writers, Readers, & Bibliophiles on Their Passion
"Without disparaging the other forms of collecting, I confess a conviction that the human impulse to collect reaches one of its highest levels in the domain of books."  Theodore C. Blegen (1891 – 1969)
Not that booklovers need an excuse for overflowing shelves, stacks of books on windowsills blocking the sunlight, or the myriads of to-be-read piles scattered about the house – but if you are in need of moral support, Only in Books will provide more than enough. This is what I turn to over and over whenever I need a good quote about books and reading.
I'm not sure how many quotes are collected here, but it's a treasure trove, especially for those who think like Samuel Pepys (1632 – 1703) who said:
 "I know not how to abstain from reading."
And should you have a spouse who complains about the money you spend in bookstores, remind him or her that a book costs less than a few beers in a bar and certainly cheaper than a pair of shoes or a cordless drill.
"No entertainment is so cheap as reading, nor any pleasure so lasting."
Mary Wortley Montague (1689 – 1762)
And if the argument above doesn't work, here's one to ponder:
"Reading goes ill with the married state." Molière (1622 – 1673)
And just imagine the shitstorm that would ensue should anyone today utter the following in public!
"I am persuaded that foolish writers and readers are created for each other; and that Fortune provides readers as she does mates for ugly women."
Horace Walpole (1717 – 1797)
I'll stop now, before I end up re-printing the entire book here. But I have to end with a quote from Oscar Wilde (1856 – 1900). This is for you writers out there. :-)
"The play was a great success. But the audience was a failure."