"Finnish is sooo hard to learn!"
I couldn't even count the number of times I've heard that phrase (strangely enough, mostly from people who've never even made an effort to find out if that is true or not.)
Well, maybe it is, but learning English has its difficulties as well, especially when it comes to colloquialisms. Here's a link to a YouTube video of the Finnish comedian Ismo Leikola on the Conan O'Brien show in January, explaining why the word "ass" is the most difficult word in the English language. (Apparently the video has spread like wildfire!) 
https://www.youtube.com/watch?v=RAGcDi0DRtU
Why? Why this year, when I am not in Lapland? The Ice Hotel in Lainio (between Kittilä and Äkäslompolo) has a Game of Thrones theme this year! It's a collaboration between Lapland Hotels and HBO Nordic. There is a Hall of Faces, dragons made of snow and ice, and even an icy iron throne. I didn't want to use any photos here without permission, so just google "ice hotel finland game of thrones" for photos of this amazing place.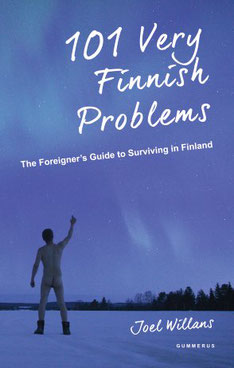 What happens when a British author with a sense of humor lives in Finland for many years? He writes a funny book called 101 Very Finnish Problems. The Foreigner's Guide to Surviving in Finland.  Not sure who will be most amused by this, Finns or foreigners, but it certainly kept me entertained on a train trip. 
Here are some of his problems:
When you have to explain for the 100th time that Moomin isn't a hippo. 
When the weather forecast for Midsummer matches that of Christmas. 
When you realize you're only one country away from North Korea. 
When you need to wear 15 layers of clothing to stay warm. 
When you forget that summer cottage is another word for labour camp. 
When alcohol is a universal permission to go totally insane. 
Here is his website with podcasts about Finland: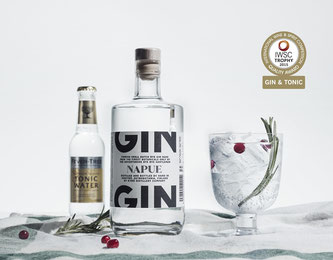 Oh, and it's Friday. Time for a gin and tonic, anyone?
Napue Gin from the Finnish Kyrö Distillery was voted as the world's best gin for a G&T by the IWSC (International Wine & Spirits Competition) in 2015 and the following year it won the gold medal in the San Francisco World Spirit Competition premium gin-series. It's a rye-based gin which includes botanicals such as sea buckthorn, cranberries, and birch leaves.
My cousin's daughter raved about this when I saw her in November, so of course I had to buy a bottle before flying back, and I can assure you that it's extremely tasty!
Thank you for the tip, Riikka!
And lastly, here's Finland as found on the Vivid Maps Website…