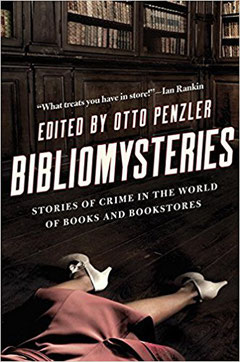 Bibliomysteries – A perfect gift for booklovers
"What treats you have in store!" – Ian Rankin
Ian Rankin's quote on the front cover of this deliciously fat volume is so true!
Even if you're not generally a fan of short stories, these lethal literary tidbits are perfect for long dark winter evenings. Not so hair-raising that you can't fall asleep afterwards, and can be read when you're alone in the house with the wind howling outside.
The stories are diverse, set in different epochs, countries, and social situations. For example, one is about a Mexican drug lord whose weakness for first editions becomes his undoing. Sigmund Freud has an uncomfortable encounter in another. A magical library changes the life of Mr. Berger in John Connolly's story, and a private detective searches for the book carrying a dead Mafia Boss's secrets in It's in the Book by Mickey Spillane & Max Allan Collins. Also, book club members may not be as innocuous as one might assume… 
There are fifteen short stories set in the world of books and bookstores, written by renowned authors exclusively for the Mysterious Bookshop in New York City and edited by its owner Otto Penzler. I checked out the Mysterious Press website and saw that there are many more bibliomysteries available, mainly as e-books though. I hope that Mr. Penzler will bring out a second volume of collected bibliomysteries very soon!
Murderous delights for your favorite booklovers - be sure to start with yourself!