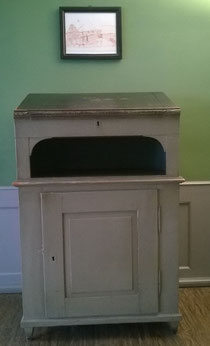 Frankfurt has much more to offer than just a fabulous Book Fair each October. Christiane (my sister-in-law) has lived in Frankfurt all her life and she planned a perfect day on Friday before the fair.
We started off with literature/culture and toured the Goethe-House which is definitely worth a visit. This is where Johann Wolfgang Goethe was born on August 28, 1749 (supposedly just as the clock struck twelve noon). It's a spacious house with four floors and there are nice descriptions of what each room was used for. It's easy to picture Goethe in the writing room, hunched over his early manuscripts at the desk or standing at the high desk, his pen (quill?) scratching across the paper, line after endless line. In the library filled with leather bound volumes, Christiane and I noted that there were books in at least four different languages: German, Latin, French, and English.  Goethe's father had collected about 2,000 books in all different fields of study.
After we'd filled our minds, we needed a little something for the body; luckily, the Bitter & Zart Salon was just a few minutes walk away. Coffee and a slice of decadent dark chocolate raspberry cake worked miracles. The atmosphere is as luscious as the cakes and their adjacent shop is full of chocolaty temptations.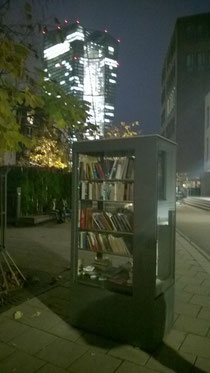 As if that weren't enough, after taking the subway to Bockenheimer Warte so that I could see the apartment house where Christiane used to live, we stopped at Conditorei Eube, a tiny pastry shop in her old neighbourhood to buy divinely rich little chocolate marzipan tarts to take with us. (One could easily assume we had nothing but literature and chocolate on our minds that weekend, which could well be true…)
Just around the corner is the Palmengarten, an enormous green oasis in the middle of the city, founded in 1869, where we marvelled at all sorts of tropical plants, the breathtakingly beautiful palm house, and the Goethe Garden.
Then back across town by subway for dinner at Oosten, located directly on the Main River.  From here you have magnificent views of the Frankfurt skyline and behind it rises the high glass façade of the European Central Bank (Germans sometimes wryly call the city 'Bankfurt' or 'Mainhatten'). Oosten is located on a former shipyard and a huge crane forms part of the building giving it a cool industrial look. Delicious food and friendly service rounded out the evening.
Ah, and I must not forget to mention the public bookcase between the subway station and Oosten, where both Christiane and I made a find. Mine was an English language paperback from 1975 titled The Times We Had. Life with William Randolph Hearst by Marion Davies, with a foreword by Orson Welles. There's still a price tag on the back cover showing that it was bought at Hearst Castle. Christiane found an old crime novel by Scottish author Macgregor Urquhart. 
All in all, it truly was a perfect day in Frankfurt. 
Danke Christiane! J 
Here are the addresses and links:
Goethe-House
Großer Hirschgraben 23-25
http://www.goethehaus-frankfurt.de/goethe-house
Bitter & Zart Salon and Chocolate Shop
Braubachstraße 14
Conditorei Eube
Leipziger Strasse 31
http://www.conditorei-eube.de/
Palmengarten
Siesmayerstrasse 61
http://www.palmengarten.de/#/en_GB/index/index
Restaurant Oosten
Mayfarthstraße 4
http://www.oosten-frankfurt.com/