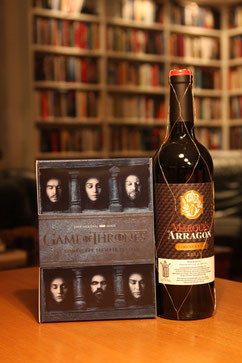 I'm going into hiding for the weekend (And, yes, I know – Tyrion and all the other characters would only scoff at this paltry amount of wine…)
Game of Thrones Season 6 was just released (maybe unleashed would be a better word?) on DVD and my younger son has roused my curiosity with countless cryptic comments (but zero spoilers). 
This is one of those rare instances where I love (am addicted to?) the movie version and have never even read the books. Not that I don't think I'd like them. Quite the opposite. But if I started one, I'd inevitably continue until I finished the series, and the dog would slowly starve in the meantime. My boys are old enough to feed themselves, so that part wouldn't worry me so much...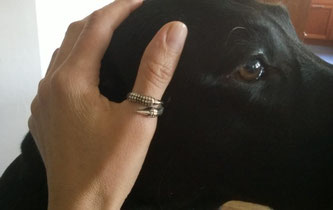 George R.R. Martin and I share the same birth date (day, not year!), which pleases me for some odd reason too. 
For those of you who do read the books, I saw that the sixth volume, The Winds of Winter, will be out in March 2017. But you probably already knew that. 
My dragon claw ring is the perfect accessory for this weekend. (As any experienced animal trainer can tell you, it is much easier to get a Labrador than a dragon to pose for a photo. J) 
p.s. – But if Tyrion dies, I swear I'm done with this series! (Max refused to tell me even when I tried to cajole and trick it out of him. I didn't realize a 17-year old could be so good at keeping secrets!)