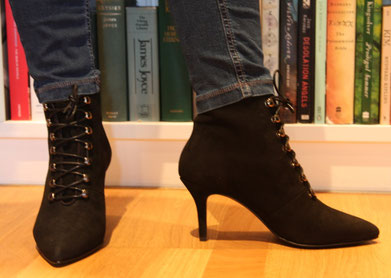 It hasn't been easy figuring out how to work a pair of awesome shoes into a book blog...
I wasn't so sure I believed in love at first sight until I spotted these in a shop in Hamburg. I tried them on and racked my brain for just one reason to buy them, but then gave up, figuring I'd be perfectly capable of finding that reason at home later on. ;-)
So the photo is here to serve as an example of inappropriate footwear for the Frankfurt Book Fair which is starting today. I will be in Frankfurt on Saturday and Sunday, logging countless kilometers, traipsing from one enormous hall to another. But not in these shoes! The Guest of Honour this year is Flanders & the Netherlands.
More about the Frankfurt Book Fair next week when I return.
p.s. - the shoes are from Navyboot Switzerland and it's Vivienne's fault, really. (See her quote on impressive clothes in the post from September 8th.)