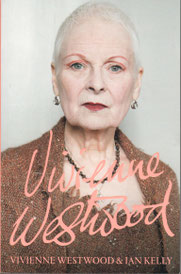 Vivienne Westwood & Ian Kelly
Vivienne Westwood
Picador 2014, 417 pages
"Vivienne often wakes early and her passion and her routine is to read in bed. Most mornings she will do this for more than an hour, …." (p. 405)
Right. So this is about a fashion designer, but books play an important role in her life, so it all ties in nicely.
Vivienne Westwood is an inspiration, a role model, an activist, someone who obviously cares deeply about the world we live in. She not only has a sense for fashion, but also for history, for tailoring, for quality.
This is a most fascinating, well-written biography about an incredible woman. The chatty tone often made me forget I was reading and not listening to people actually talking, reminiscing, and telling funny anecdotes. Her life story is as enthralling as any work of fiction and it kept me hooked from the first page. From making distressed and punk rock clothing and dying and printing t-shirts – literally by hand – to sell in her shop on King's Road to running this enormous fashion label, wow, did I mention how inspiring she is? :-)
(I also learned two new terms: brothel creepers and winkle-pickers.)
Here's another quote: "You have a much better life if you wear impressive clothes."
So if you'll excuse me now, I'm going to change into something more impressive than the jeans and Alaska Brewing Co. tank top I'm wearing at the moment. (Although I do love this top - and not only because their beer is tasty…)
As far as accessories go then, I'd say this book is a rather fashionable one. Tuck it under your arm; it'll look better than a sequined clutch.