After more than four months of focusing my attention on other projects, I thought it's time to wake Bookthirsty from its self-induced coma – or is hibernation a more appropriate word? Lately I have read so many fabulous books and am starting to feel guilty about not sharing them with others.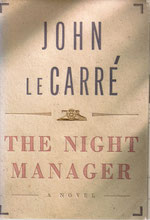 I'll begin with a no-brainer to get back in the swing of things (I am writing on my new laptop and trying to get used to a flat little keyboard, so I'm inching along here at a snails pace anyway.)  So the easiest books to begin with are re-reads of one of my all-time favorite authors, who, in my mind, can do no wrong as far as spy novels are concerned:  John le Carré.
The Night Manager, published in 1993, has been made into an eight-part series, which I wanted to see, but first I had to re-read the story of the oh-so- cordial and discreet hotel night manager who turns into an undercover spy for the British government.  Reading the book will not spoil the fun of watching because the two are the same at heart but still quite different.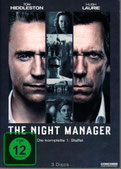 (Of course I can't divulge how or why…)
Tom Hiddleston makes a brilliant Jonathan Pine and Hugh Laurie is perfect as 'the worst man in the world'.  Olivia Colman as the fiercely undaunted Angela Burr (in the novel the role is male) was my hero in the movie version. Very smartly done – and usually I'm the first one to whine about how the book was much better than the movie…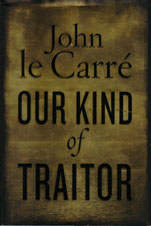 Right after watching The Night Manager, I spotted an article about Our Kind of Traitor which has also just been filmed. This is one of his newer books, published in 2010, and an absolute page-turner. While on holiday in the Caribbean, Perry, a British teacher, is approached by a Russian millionaire who asks him to hand information to the British government, and soon Perry and his girlfriend are also caught up in a tangled web of interests  including the Russian mafia and the British Secret Service.
Ewan McGregor plays thepart of Perry in the movie, with Naomie Harris as his girlfriend, and Stellan Skarsgård is Dima, the Russian oligarch. I'm really looking forward to seeing that!
Oh, there was one more re-read in addition to le Carré. A classic. An absolutely perfect novel: The Great Gatsby by F. Scott Fitzgerald, which I plucked from the shelf because my son had to read it for his English class. (Yeah, when my kids have to read something for English, I often end up reading them too. Last year it was The Crucible by Arthur Miller.) 
Theoretically, I could just re-read books that are already on my shelves for the rest of my life and never have to buy a new one. But I have to think of all the booksellers in the world who need to make a living...