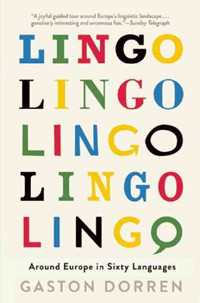 Gaston Dorren 
Lingo. Around Europe in Sixty Languages 
With contributions by Jenny Audring, Frauke Watson and Alison Edwards (translation)
Atlantic Monthly Press 2015, 284 pages 
How can I not advocate a book which explains why Finnish is easier to learn (to spell at least...) than English? :-) 
Anybody who is interested in languages will love reading Lingo – it is a collection of essays on sixty European languages and dialects, each just a few pages long, but full of interesting facts. I thought I'd enjoy a couple of chapters daily, but ended up racing through the entire book in just two days. 
Here are a just a few things you will learn, all presented in a highly entertaining fashion: 
How to pronounce 'ghoti' in English.
Why the Hungarian language feels plain lonely.
Why Armenian is to the family of Indo-European languages like the platypus is to mammals.
How the Dalmatian language literally went out with a bang in 1898.
Why counting in Breton is easy, but calculating causes headaches.
Twenty words for snow in Inari-Sami.
Some interesting facts about sign language. 
The chapter on Latvian spellings of foreign words had me nearly doubled over and I had never heard of ergative languages before reading this book (see chapter on Basque). And how on earth can Nghwm and cwm be different versions of the same word??? (Welsh) 
Gaston Dorren's Website