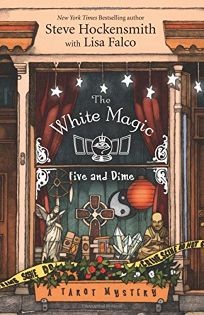 Steve Hockensmith with Lisa Falco 
The White Magic Five and Dime. A Tarot Mystery 
Midnight Ink 2014, 326 pages 
The White Magic Five and Dime caught my attention at the Frankfurt Book Fair, mainly because the cynical heroine with the smart mouth sounded like such a fun character to read about.
Alanis McLachlan hasn't seen her mother in twenty years and now gets a message that her mother was murdered and has left a will. Alanis travels to Berdache, Arizona only to find that she has inherited a Tarot shop of all things. Highly sceptical because, after all, her mother had been a con-artist, Alanis nevertheless decides to stay long enough to figure out who the murderer was.
Logan, the local detective with movie star looks captures her attention and not only in regard to the case… Soon Alanis begins to get threats over the phone, warning her to leave. There is also Clarice, her late mother's seventeen year old assistant and roommate to deal with while coming up with a list of people who may have been swindled by her mother. 
I am not esoteric in any way nor do I know the first thing about Tarot cards, but I enjoyed reading about them. The first description of Alanis laying cards for a customer is hilarious, as are the excerpts from a book titled Infinite Roads to Knowing by a mysterious author named Miss Chance which Alanis finds in the shop. 
Thoroughly entertaining read without being 'fluffy' and I loved the heroine. 
This is the first of a series. Fool Me Once is the second book and Give the Devil His Due will be released on April 8, 2016. 
I also googled Sedona which is located near the fictive town of Berdache and read that it is indeed believed to be a "center of vortexes created by spiralling spiritual energy" which draws loads of tourists all year round… 
The German title is: Weiße Magie - mordsgünstig