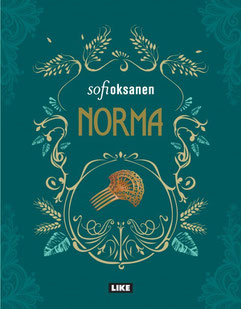 Sofi Oksanen
Norma
Like 2015, 304 pages
Norma is an unusual young woman who is suddenly left completely alone when her mother dies. Was it suicide or was she murdered?
Norma's thick hair grows up to a meter a day and it can actually sense things. If anybody found out about this, she would be in great danger. Without her mother to protect her, she does not know who she can trust.
Norma has the key to something the Lambert family wants, of that they are sure, and they will stop at nothing to get it.
Norma is about organized crime, trafficking of surrogate mothers and human hair, about our obsession for beauty, all set mostly in Helsinki in a not so distant future and spiced with a splash of magic.

The Lamberts are megalomaniacs. They want the entire world and have chosen the right fields for their crusade. Who controls peoples' dreams, controls the world. Who has control over hair, has control over women. Who controls their reproduction, controls the men as well. Who keeps women satisfied, also gratifies the men, and who doctors hair- and baby-fevered humans, is their king.
When my friend Paula was here in October, she mentioned that Sofi Oksanen would be reading in Kuopio the following week. On a whim I gave her my copy of Puhdistus (English title: Purge) to take back to Finland in order to have it autographed. I had been to Sofi Oksanen's reading in Munich in 2010 right after we moved back from Finland, but at the time, my copy of Puhdistus was still packed in a box some 200 kilometers north of the Arctic Circle, because we hadn't had room to bring everything back at once.
A week later, while at the Frankfurt Book Fair, I received an E-Mail from Paula saying that she'd been to the reading, had enjoyed it very much and that I should NOT buy Norma, the new novel by Sofi Oksanen, even if I did see it at the book fair.
Soon thereafter, I received a package from Kuopio with my old copy of Puhdistus and a new copy of Norma, both autographed by the author.
So my books sometimes move about more than I do…
Kiitos Paula!!!
Norma will be published in German by Kiepenheuer & Witsch in Spring 2017, and
is scheduled to be published in English by Atlantic Books in July 2017.