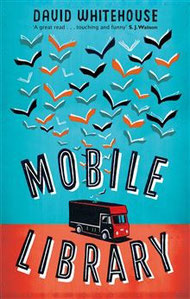 David Whitehouse
Mobile Library
Picador 2015, 273 pages
I mentioned Sasha Abramsky's The House of Twenty Thousand Books for the hard-core bibliophiles and then Wanted! Ralfy Rabbit, Book Burglar and The Snatchabook for the absolute beginners.
So now here is something in the middle. Not just for booklovers, but for anybody who loves a great story with quirky characters.
Twelve-year old Bobby Nusku fears spending time at home. His mother is gone and his best friend has moved so when Bobby meets Rosa and her mother Val who cleans a mobile library, he also discovers books, and the summer begins to look brighter. Then things start going wrong, and the three feel their only choice is to run away – in the mobile library.
While the book is entertaining and fun to read, there is also this running undercurrent of really bad ideas kids have (including a few spine-chilling scenes), bullying, child abuse and neglect, and the effect that ignorant and nasty gossip can have.
However, along the way, Bobby, Val and Rosa befriend a stranger, have the adventure of their lives and forge themselves into a family – and Bobby discovers that stories really do happen to people like him.
And really, if one had to run away, what better vehicle to go in than a mobile library?!
http://www.davidwhitehouse.net/