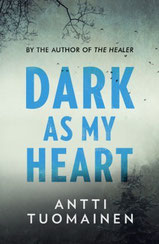 I just noticed that Synkkä niin kuin sydämeni by Antti Tuomainen is now available in English.
It is titled Dark as my Heart and translated from the Finnish by Lola Rogers.
Published by Harvill Secker in October 2015. 
Back when I wrote about this (October 2014), it was only available in German.
And for some reason I am unable to link this to that post, which is unusual. :-(