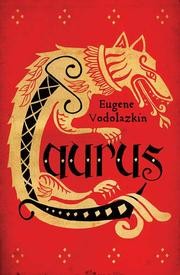 Eugene Vodolazkin
Laurus
Oneworld Publications 2015, 365 pages
Translated from the Russian by Lisa C. Hayden
Those who buy this book because they assume it is "Russia's answer to The Name of the Rose", as is printed on the cover, might very well be disappointed. Both are set in the middle ages and both fairly teem with monks, yes… But no.
And what is it with this marketing trend which tries to force every other new title into the spotlight occupied by an older bestseller anyway? Often quite misleading, and once you've bought and read the book, you can hardly return it to your bookseller crying that it was nothing like The Name of the Rose, Dickens or Borges or whatever other novel it claimed to have elements of, be the love child of, or have a new fresh take on. You're not going to get your money back, no matter what kind of puppy eyes you make.

I admit I was lured by this combination of a fantastic cover design (designed by Gray318), the title (although I can't explain why), and that promising comment comparing it with The Name of the Rose.
At least the back cover is more truthful: Love, faith and a quest for atonement are the driving themes… That is certainly the case. And despite it being completely different from what I was expecting, I do think it's a "good book". (More on that subject some other time.)
The novel follows Arseny's life (or that of Laurus – he has four different names during various stages in his life), as he is born into plague-ridden Russia in the mid-fifteenth century, learns the art of herbal healing from his grandfather, and becomes a respected herbalist himself. Although he performs nearly miraculous deeds with his herbs and the power of his hands, he is unable to save the lives of those he loves and sets off on a journey to atone for his sins, searching for some sign that he has been absolved. Accompanied by various travelling companions, he passes through many countries, learns about different customs, and survives attacks by highway bandits, storms at sea, hunger and cold. Pestilence is omnipresent.
This is not a classic adventure story which builds up tension – despite the adventures, deaths, and dangers he faces along the way – but quieter, more philosophical as a whole. It's about faith and the curative power of belief, it describes human nature in all its facets, and the notion of time being cyclical rather than linear is (was, will be?) touched upon more than once. This cyclical nature of time was also conveyed by the manner in which different times of history and language usage were woven together in a completely natural fashion.
Arseny also learns how to read, an uncommon skill in those times, and one of my favourite scenes was of Arseny reading the chronicles of Alexander the Great out loud to a wolf by the light of a splinter-lamp.