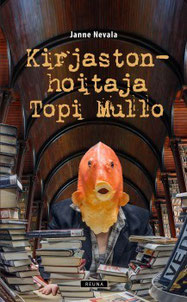 Janne Nevala
Kirjastonhoitaja Topi Mullo
Reuna, 2015 269 pages
Janne Nevala's Kirjastonhoitaja Topi Mullo is an entertaining story about a young man who takes a summer job at a small library on an island. He has been left with precise instructions as to what his duties are, and these he takes very seriously (to the dismay of some of the visitors). But summer is when things happen on the island, and a veritable invasion of tourists and artists shake up Topi's routines. A theatre ensemble ends up moving into the building, and the flamboyant actress Nika takes an interest in him. There is the beautiful red-haired cleaner, a gang of unruly boys, and a rich widow who lives in an enormous storybook mansion, to name just a few of the other characters. The tone of the book is humorous, especially Topi's inner monologues, which often made me laugh out loud.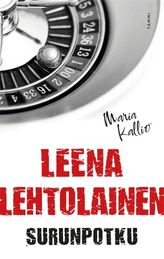 Leena Lehtolainen
Surunpotku
Tammi 2015, 432 pages 
Surunpotku by Leena Lehtolainen (a gift from my friend Liisa), is the thirteenth mystery with detective Maria Kallio. This one begins with a gemstone expert found murdered in a church. His wife is a prominent politician whose past gets dragged back into the spotlight. But if you are a Maria Kallio fan and have read the previous twelve books, the only thing you probably need to know is that there is a new book out and you need to stop by the bookshop on your way home…
See my previous article about Leena Lehtolainen
Milla Ollikainen
Vesiraukka
Like 2014, 255 pages
Vesiraukka (or näkki in other parts of Finland) is a water spirit who might also be the ghost of a drowned person. Not to be trifled with, it is envious of the living, and tries to pull them into its kingdom, especially children who still have a long life ahead of them.
Vesiraukka is also a mystery novel, the second one written by Milla Ollikainen who won a mystery novel writing contest in 2012 with Veripailakat. Both mysteries take place in one of my favourite places in Lapland. In Äkäslompolo, a popular ski area, one would think that the worst that can happen is a broken leg on the slopes or maybe the occasional knife fight after a night at the pub… However…Milla Ollikainen shakes up this idyllic northern town with the murder of a local high school girl, designer drugs, family secrets and ancient Sámi legends.
Don't swim out too far, parents caution their children, because vesiraukka might get you… And take this as a warning from me as well, because Vesiraukka got me for many hours.
Both of these novels were also gifts from Liisa (she sends me a lot of books, which I am most grateful for. If I am a book junkie, then she is one of my main dealers… J)
I think these should be translated into German and English, seeing as how many foreign tourists visit Äkäslompolo.