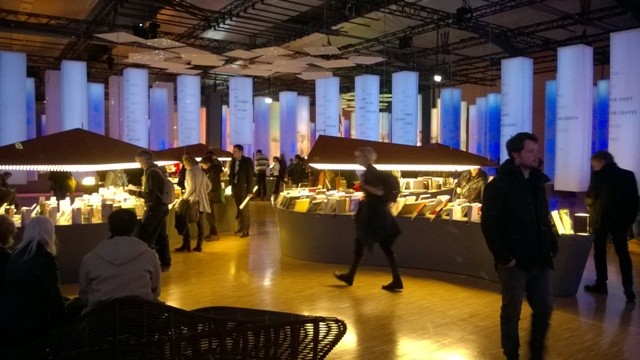 What? No wake-up slam at the book fair this year? What a disappointment! That was the best and most inspiring way to start each day last year.
Guest of Honor this year was Indonesia. The pavilion was divided into different 'islands', each with a different theme – old manuscripts, tables of colourful spices near the luscious cookbooks, a reading area and so on. Befitting for a country composed entirely of islands (according to Wikipedia, Indonesia is spread over 17,508 islands, about 6,000 of which are inhabited!)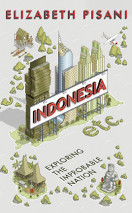 Virtually all of my traveling time was spent reading Elizabeth Pisani's fascinating portrait of the fourth (after China, India and the United States) most populous country in the world (with about 255 million inhabitants). Indonesia Etc. Exploring the Improbable Nation is an extremely informative and also entertaining glimpse of this bountiful many faceted country of which I knew virtually nothing about. I carried this book with me everywhere I went and had my nose between the pages each time I had to wait anywhere for more than five minutes.
I walk around the fair with a notebook and pen at the ready, jotting down authors and titles which interest me. 89 in total this year, including the myriad of fantasy novels which I thought might interest my older son.
Quite a few of the books caught my eye because of the illustrators. These included:
Also many books about books, such as Mobile Library by David Whitehouse, The House of Twenty Thousand Books by Sasha Abramsky, The Sky over Lima by Juan Gómez Bárcena, The Prison Book Club by Ann Walmsley, and Der Club der Buchstabenmörderby Sigismund Krzyżanowski.
Then there are the silly books which make me snicker. The recipe book called The Game of Scones. All Men Must Dine by Jammy Lannister was one of them. And some are just plain cool: Paper Dandy's Horrorgami. 20 Gruesome Scenes to Cut and Fold (see examples here: http://paperdandy.co.uk/work/horrorgami-book/)
I particularly enjoy wandering around the international area, even if I don't understand most of the languages. Constant bustle at the Indonesian stand of course – they also had many books in translation, both in English and German. Listened to the movie director Carlos Cuarón speak at the Mexican stand (and even understood a bit here and there), marveled at the energetic and festive goings on at the Azerbaijanstand and admired the floor at the Catalonian stand. It was a print of the Panot Tile designed by Gaudí in 1904. Barcelonaalso advertised itself as being the publishing capital for both Catalonian and Spanish titles. Make a note of that. Barcelona sounds more and more like a city I must visit!
Harper Collins Publishers had a huge stand but what a disappointing one. Imagine this - all the enticing new books were behind glass. One could look but not touch. What the hell? Where's the logic in that? It was sterile and off-putting, so in my irritation I did not jot down a single title (like that's going to change anything...) but rather headed across the aisle to Bloomsbury which not only had shelves and shelves of books to leaf through, but also room to sit.
Sunday one may buy books. I only buy titles I can't get elsewhere in Germany, so this year I came back with:
Hurjalinna by Katja Kerkelä
Kirjastonhoitaja Topi Mullo by Janne Nevala
Yöperhonen by Katja Kettu
And – in a burst of optimism – two children's books from the Mexican stand:
La cuchara sabrosa del professor Ziper by Juan Villoro (ilustrado por Rafael Barajas, El Fisgón)
El hombre que fue un mapa by Ignacio Padilla (ilustrado por Rafael Barajas, El Fisgón) 
Next year the Guest of Honor in Frankfurt will be The Netherlands and Flanders. I read somewhere that they plan on 'flooding' Germany with their literature!