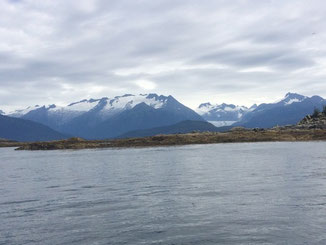 My posts here stopped for some time, having started to question the point in keeping this up. It's not the only thing I've been questioning lately; pretty much everything is being scrutinized and turned over in my mind. Except for one thing. No matter what chaotic thoughts abound, one subject always manages to poke its way to the surface as a matter of course, much like crocuses in the springtime, and that is, of course, books. Sometimes I feel like they literally anchor me to the world.
I just returned from visiting family and friends in Seattle and while there, my sister, my nephew, my younger son and I accompanied my mom on a short trip to south eastern Alaska. She has wanted to go there for years, so the trip was a birthday gift when she turned – um… when she had a birthday. Shortly before we arrived in Juneau, I looked at the mountains and passages of water through the plane window and thought to myself that should I ever move back to the USA, I would move to Alaska (note that we hadn't even landed yet…)
We saw humpback whales, porpoises, spawning salmon (literally filling up the stream with their thrashing red bodies – incredible!) and a porcupine. In both Sitka and Juneau we'd stop in the middle of the sidewalk to gape at the bald eagles. In Sitka two eagles had made themselves comfortable on top of the Russian Orthodox Church. No bears, although we did hear plenty of bear stories. We ate Alaskan king crab at Tracy's Crab Shack once. If not there, where then? Only the cruise ships anchored in the harbour, looming higher than most buildings, detracted from the atmosphere, as did the myriad of shops selling jewellery and other luxury items, the ones outside the historic district, where salespeople stood in the doorways calling out 'come in and get your free gift'. (Come on - does that work, really?)
We would recommend using the Alaska State Ferries, having travelled from Juneau to Sitka and back that way. Breathtaking scenery all the way, through the sometimes quite narrow straits and channels (one of them was even named Peril Strait).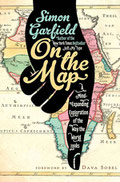 Yes, that's all very nice, but what did you read in Alaska, you ask?
Well, before we left Germany, I did a little research of my own and had a list of addresses I wanted to visit. First on the list was Half-Price Books of course – I could easily spend an entire day there, and my family knows better than to let me go there alone. I am always under supervision and was able to keep my buying to a bare minimum:
Matthew Pearl: The Poe Shadow
Milorad Pavič: Dictionary of the Khazars. A Lexicon Novel
Simon Garfield: On the Map. A Mind-Expanding Exploration of the Way the World Looks
Mark J. Plotkin: Tales of a Shaman's Apprentice. An Ethnobotanist Searches for New Medicines in the Amazon Rain Forest
Seattle Noir, edited by Curt Colbert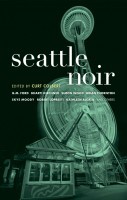 I took Seattle Noir, a collection of short stories, to read in Alaska, but was almost done with it when it was time to leave for Sitka. Any booklover will recognize the panicky feeling one gets at the thought of running out of reading material along the way, which is why we take an 800 page novel on a flight that lasts two hours. Just to be on the safe side.
So I popped into Hearthside Books in Juneau, also on my list of places to see, and after much deliberation (we were travelling with hand luggage so I allowed myself one book only), chose Peter Jenkins' Looking for Alaska, which is partly about the author's experiences while living in Seward for eighteen months and partly depictions of Alaskans and their lives.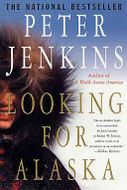 (And not to be confused with John Green's novel of the same title, which my son has on his shelf…) Although a bit long-winded at times, and with extraneous information about his family, it is still a very interesting read. One of the first chapters is about a wildlife biologist with Alaska Fish and Game, and the often hair-raising extremely dangerous situations he is called to deal with. Many of them involve bears and just reading about them is apt to cause nightmares - did you know that when a bear attacks, it will generally bite into your head first?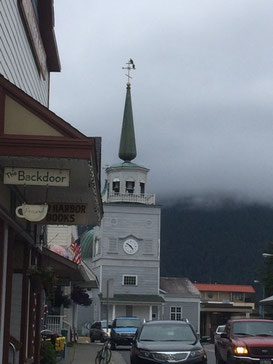 Old Harbor Books in Sitka has a nice selection of books, lots of Alaskana and a cozy café in the back. Definitely worth a visit.
In Juneau I was saving the best for last, and on our last day, I spent some time in Rainy Retreat Books. They have new books but also shelves and shelves of second hand books. Second hand bookstores are my favorite – you never know what treasures you will find. I came out with Ten Rowdy Ravens by Susan Ewing and Evon Zerbetz for my brother's 16-month old twins because I'd been seeing it everywhere I went. (Oh, and the ravens in Alaska are HUGE!) And also A Republic of Rivers: Three Centuries of Nature Writing from Alaska and the Yukon edited by John Murray. This one I left in Seattle for my mother to read first.
Obviously five days aren't nearly enough, so I will have to go back. And not only because my friend who lives in Fairbanks told me that they have a great little bookstore there too… I also missed a store in Juneau, said another friend who is from Alaska:
(http://www.observatorybooks.com/)
Hearthside Books
254 Front St. in downtown Juneau
Rainy Retreat Books
113 Seward St. in downtown Juneau
Old Harbor Books
201 Lincoln St. in downtown Sitka
http://www.oldharborbooks.net/
(The whales were the best though. I didn't even take a book with me on the tour! J)