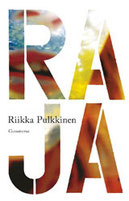 Riikka Pulkkinen
Raja
Gummerus 2007, 399 pages
English: The Limit (translated by Lola Rogers)
German: Die Ruhelose (translated by Elina Kritzokat)
Anja, a 53-year old professor of literature, has promised her husband that she will help him die when Alzheimer has destroyed his memory. Feeling unable to keep her promise when this does happen, she obtains enough sleeping pills for her own suicide.
At the same time, Anja's 16-year old niece, Mari, who spends a lot of time thinking about her own death and how people would react to it, has fallen in love with her Finnish teacher and they begin an affair - an all-encompassing obsession for Mari and an erotic diversion for Julian. Julian's six-year old daughter Anni observes the sometimes odd behaviour of the adults around her while knowing when to keep silent about what she sees.

The word 'raja' in Finnish means border, boundary, or limit, and much of this book is about boundaries which one thinks one should or should not cross and those which one then actually does (or not), the limits to which one will go…
Luckily for me, this book had been in a little 'discard' pile at my 80-year old aunt's house when I visited her in January. She didn't like the book, so I got to take it with me, and I do like it very much, so it now has a home in Northern Germany.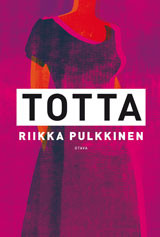 Riikka Pulkkinen
Totta
Otava 2010, 333 pages
English: True (translated by Lola Rogers)
German: Wahr (translated by Elina Kritzokat)
Totta, was a gift from my friend Liisa in Lapland, and I read it in October 2012.
Elsa is dying and her husband Matti and daughter Eleonoora are fighting with the thought of having to live without her. Her granddaughter Anna chances upon a long-forgotten dress at the back of Elsa's closet, a dress which belonged to Eeva, who had been Eleonoora's nanny in the sixties, and whose name hasn't been mentioned in decades… 
Suosittelen molempia! (I recommend both!)
I have a third one by the same author (Vieras from 2012), which is still waiting on the to-be-read shelf.