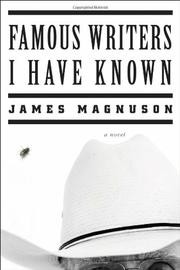 James Magnuson
Famous Writers I have Known
W.W. Norton & Company 2014, 311 pages
Imposters. Felix Krull by Thomas Mann springs to mind immediately, as does the movie Catch Me If You Can. And Patricia Highsmith's Tom Ripley, of course!
Fascinating protagonists in any case. No matter what else happens in the story, there is always the danger of being found out, so there is this hidden current of suspense in even the most banal encounters.
This novel is about an imposter. It's also a bit of a satire (Is it really? Or more like a documentary?) on creative writing courses and the entire literature industry, but without getting really sharp and nasty about it. All in fun.
I thought it was well written and extremely entertaining. I also liked Frankie's irreverently funny tone.
Here is the text from the inside cover:
This brilliant mix of literary satire and crime caper, Frankie Abandonato, a small-time con man on the run, finds refuge by posing as V.S. Mohle – a famously reclusive writer – and teaching in a prestigious writing program somewhere in Texas. Streetwise and semiliterate, Frankie finds that being treated as a genius agrees with him.
The program has been funded by Rex Schoeninger, the world's richest novelist, who is dying. Buzzards are circling, angling for the remains of Rex's fortune, and Frankie quickly realizes that he has been presented with the opportunity of a lifetime. Complicating matters is the fact that Rex is haunted by a twenty-five year feud with the shadowy Mohle. What rankles Rex is that, while he has written fifty bestsellers and never gotten an ounce of literary respect, Mohle wrote one slender novel, disappeared into the woods, and became an icon. Determined to come to terms with his past, Rex has arranged to bring his rival to Texas, only to find himself facing off against an imposter