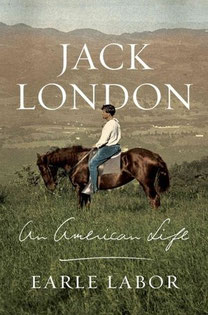 Earle Labor
Jack London. An American Life
Farrar, Straus & Giroux 2013, 384 pages
This biography is just as exciting to read as the stories written by the subject of the book!
Born in San Francisco in 1876, Jack London was always on the lookout for an adventure. Long hours working at a cannery, a short stint as an oyster pirate (after which he was hired by the California Fish Patrol), hiring onto a sealing schooner which sailed to Japan, tramping across the US, including thirty days spent in jail, and an expedition to the Klondike during the Gold Rush (bringing back 'nothing but scurvy'), for example, all by the age of 25.
Famous during his lifetime and while earning large amounts of money, he also spent lavishly, so was often strapped for cash.
He maintained a strict writing schedule, putting down 1000 words each day no matter where he was: sailing on the Snark to Australia, the South Seas and Hawaii or building a lavish mansion which burned down shortly before he was due to move in.
His relationships with his first wife and two daughters and his second wife and 'soul-mate' Charmian Kettridge and various other family members and friends were at times equally dramatic.
An incredibly adventurous life well told by Earle Labor!