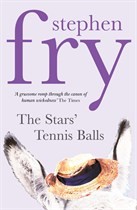 Stephen Fry
The Stars' Tennis Balls
Arrow Books 2011, 436 pages
On the inside of the book there is this quote from Mail on Sunday
'My goodness what fruity language Fry uses! You can feel his enjoyment, and also the huge force of his desire to please you, as you read this.'
He certainly pleased me very much with this extremely entertaining novel!
It is 1980 and young and handsome Ned, athletic, popular, and madly in love with Portia, lives in what seems to be a flawless world. His perfect life is, however, annoying to a few of his peers, who decide to play a practical joke on him, which in turn leads to devastating consequences for Ned. As a result, he ends up locked away in a mental institution on an island for the next twenty years.
BUT, he meets an interesting friend there who teaches him many things, and after his death, Ned manages to escape. The book would have been even better had Ned's revenge on everybody been more psychological and less physically violent, but still, it is just the kind of story you cannot put down once you have started reading.
(And yes, this is a contemporary version of The Count of Monte Christo!)