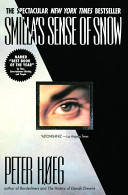 Peter Høeg

Smilla's Sense of Snow

Translated by Tiina Nunnally

Delta 1993, 469 pages

No one who falls into the water in Greenland comes up again. The sea is less than 39°F, and at that temperature all the processes of decomposition stop. That's why fermentation of the stomach contents does not occur here; in Denmark, however, it gives suicides renewed buoyancy and brings them to the surface, to wash up on shore. 
Smilla's Sense of Snow by the Danish author Peter Høeg is the type of novel one can read just to hear the sound of the language.
Tiina Nunnally's English translation is so perfect I can't imagine the original being any better. I own a paperback copy which is worn out and spotted with coffee stains. The novel is written in the present tense, which is not so usual and makes one feel as though one is living the story right along with the protagonists. Smilla, a Greenlander living in Copenhagen, is one of my favorite characters ever – independent, a loner who has distanced herself from people and from much of life as well, smart and very particular about her clothing. When her six-year old neighbour falls to his death from the top of their apartment building, Smilla sets out to find out what happened. 
"He was lying," I say. "He lied at the end. He knows who Tørk Hviid is."
We look into each other's eyes. Something is wrong.
"I hate lies," I say. "If any lying has to be done, I'll do it myself."
"Then you should have told him that. Instead of coming right out and hugging him."
I can't believe my ears, but I see that I've heard correctly. In his eyes there is the gleam of pure, unadulterated, idiotic jealousy.
"I didn't hug him," I say. "I helped him into his coat. For three reasons. First, because it's a courtesy you ought to show toward a fragile, elderly man. Second, because he presumably risked his position and pension to come here."
"And the third?"
"Third," I say, "because it gave me the chance to steal his wallet." 
Every character in the book is fascinating. Every description conjures up images as easily as though one was watching a movie. 
The raspberry tart has a bottom layer of almond custard. It tastes of fruit, burnt almonds, and heavy cream. Combined with the surroundings, it is for me the quintessence of the middle and upper classes in Western civilization. The union of exquisitely sophisticated crowning achievements and a nervous, senselessly extravagant consumption.