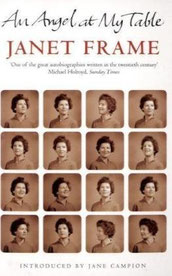 Janet Frame
An Angel at My Table
Virago Press 
I wish I had discovered this author as a teenager or in my twenties when I didn't have a single ounce of self-confidence.  But better late than never. This wonderful autobiography which was originally published in three volumes (To the Is-Land, An Angel at My Table, The Envoy from Mirror-City) describes her life in great detail, growing up in New Zealand, the excruciating shyness which caused her to avoid many situations and sometimes even just walk out of certain ones, the tragedies in her family – two sisters died very young, both by drowning and the years she spent in various psychiatric institutions after having been (falsely) diagnosed with schizophrenia. Luckily she came in contact with people who encouraged her to keep writing, mainly Frank Sargeson, also a writer, who was a mentor to many New Zealand writers. He let her live in a hut on his property in Takapuna where she wrote her first novel Owls Do Cry. He also helped her obtain a writing grant so that she could travel abroad. Janet Frame spent the next seven years living and writing primarily in England, Ibiza and Andorra before returning to New Zealand.
Despite her shyness which was almost crippling at times, she clung to her reading and writing, always turning to words, no matter what the situation. She was strong in that sense then, always believing in her own abilities and never giving up on her writing. This is an autobiography one races through. Candidly written with an amazing attention to detail, descriptions of how people walk or hold their bodies, vegetation (there were so many mentions of macrocarpa that I finally looked it up in order to see a photo of it) and throughout the book there is always this sense of her intelligence and love of learning which is never extinguished no matter how difficult things were.

Once when the train was forced to a stop before a landslide of clay covering the line, the driver and fireman and a trolley of gangers worked with shovels clearing the line while the passengers sat silently immersed in the green dream, and when the train at last began to move, creaking slowly around the narrow bend after narrow bend where rainwater oozed from every pore of earth and bark and leaf and fern, there was the privilege of knowing, like being favoured with a secret, that this was not the 'main trunk line', accepted by use, with refreshment stops and cities along the way, this was a 'branch line', with all its mystery, neglect, vague atmosphere of exile which is the nature of branch lines everywhere, even in dreams, thinking, and history.