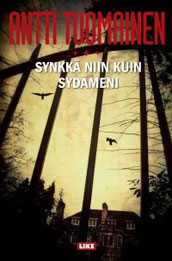 Antti Tuomainen
Synkkä niin kuin sydämeni
Like 2013, 302 pages
Sonja Merivaara disappeared mysteriously twenty years ago. Her son Aleksi Kivi is certain that the wealthy businessman, Henrik Saarinen, had something to do with it and because the police never solved the case, he is now determined to take matters into his own hands. Finding a way to get close to Henrik Saarinen wasn't overly difficult, but he hadn't reckoned with Henrik's beautiful and spoiled daughter… A gripping story about obsessions, revenge, and loneliness set in Helsinki and a mansion by the sea.
This novel made the train ride from Hamburg to Frankfurt seem very short!
Synkkä niin kuin sydämeni seems to be available only in German translation so far. (Todesschlaf)
Antti Tuomainen is the author of The Healer (Parantaja), an immensely popular dystopian novel which has already been translated into over twenty languages.