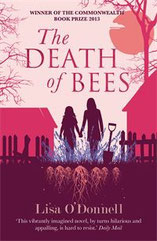 Lisa O'Donnell
The Death of Bees
Windmill Books 2013, 295 pages
Completely engrossed in this book, I was able to ignore everything around me at the airport, on the plane and in the local trains on a short trip to Frankfurt. (Monika at Buchhandlung Slawski raved about this novel so much that I had to buy and read it immediately!)
Despite being a horrifying story of neglected children, it is told in a fantastic and sometimes quite humorous manner, making it extremely readable in the cannot-put-it-down sense of the word!
Marnie and Nelly are fifteen and twelve years old when their parents die. To avoid being put into state care, they bury the bodies in the backyard of their house in the slums of Glasgow and hope that nobody notices. Lennie, the old man next door does become curious however, but he also has problems of his own to deal with. Narrated alternately by the three main characters.
Excerpt from the book (Marnie):
Even when I was grateful it wasn't for the things a normal person would be grateful for:
'Thanks for not coming home with total strangers and keeping me up all night with Blue Monday'; 'Thanks for buying eggs and not crack this week'; 'Thanks for making it to the toilet last night and not shitting all over the sofa'; and last, but not least, 'Thanks for suffocating yourself, Izzy, and making it easier to move your dead body into a coal bunker.'
The German translation is called Bienensterben and it is the Book of the Month at Slawski.