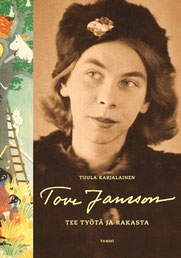 Tuula Karjalainen
Tove Jansson. Tee työtä ja rakasta
Tammi 2013,  290 pages 
Tee työtä ja rakasta.
Work and love (read as second person imperative rather than as nouns) – were most important in this multi-talented artist's life. All my life the name Tove Jansson has been synonymous with the Moomins, and the fact that she had a life outside of them seldom occurred to me.
Tuula Karjalainen portrays the times Tove lived in, the society, currents in the art world in Finland and abroad, and her relationships with family, friends and lovers, weaving them into a fascinating and satisfying biography complete with loads of pictures of Tove's work and some photographs of her as well.
I admire Tove Jansson not only for her focus on her work, but for defying the conventions of her time. She decided against marriage and children, knowing that her art would suffer from having to constantly be there for others. She had lovers of both sexes, and at times more than one relationship at once.
This is the kind of biography I could easily have read in one (long) sitting, but since I didn't have the time, I had to keep 'allowing' myself to read a certain number of pages, which I almost always overstepped, so the weeds are slowly taking over the driveway and papers are piling up to name just a couple of things. But hey, we're talking about art here, one of the most fabulous Finnish creators, so I tell myself the weeds will wither away anyway when the first frost comes. Yes, I know it's only July now…
(I am drinking my coffee out of a Moomin mug as I write this.)
This book will be available in English in November 2014 (Penguin)
and in German in July 2014 (Urachhaus)