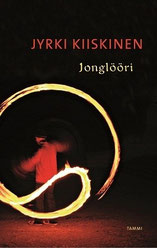 Jyrki Kiiskinen
Jonglööri
Tammi 2013, 237 pages 
Jonglööri means 'the juggler' and the protagonist of this book is a fire artist who has been invited to perform at a circus festival in southern France. As soon as he gets there, he begins falling for the organizer of the event, who is referred to only as 'you', but while he is trying to flirt with her, a pack of cigarettes on the neighboring table suddenly confuses him because it is a Finnish cigarette brand which has not been manufactured in twenty years. It reminds him of his old school friend Gabriel and the circumstances of his tragic death right before he turned eighteen. He begins to see Gabriel everywhere and memories of his childhood and youth are interspersed between scenes from his life as a circus and fire artist. What happened and why all those years ago and what is really happening now? Both the mystical and the destructive elements of fire are vividly told.
It's a wonderful story which left me feeling divided at the end. Either it was pretty clear as to what is and has been happening all along or it only seems that way and is not clear at all… 
Definitely should be translated into English and German!