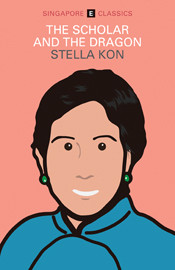 Two Singaporean Authors 
Last fall Ralf was on a business trip in Singapore and my answer to his question as to what I wanted him to bring back was, of course, 'a book by a Singaporean author'.
The Scholar and the Dragon, a novel by the Singaporean novelist and playwright Stella Kon, was the book recommended to him at the Kinokuniya Bookstore on Orchard Road. Boon Jin is the main character and the story opens with his arrival in Singapore from China in 1906 at the age of sixteen to stay with his uncle because he had disgraced his family in China by mixing with the wrong crowd.  Singapore was a British colony at the time and the novel provides a nice portrait of the times, showing how the different cultures either kept to themselves or meshed, depending on the situation, and also describing how Boon Jin grew up and slowly found his own way in this bustling international city. Not only were there cultural disparities, problems also arose from the different ways of thinking regarding tradition, which is well described in the following quote from the book:

"Uncle's tirade was less impressive than the lectures that Boon Jin got from his father, full of quotations and classical allusions so that he felt as though thirty generations of Chinese scholars were all criticising him together."
Stella Kon is the great-granddaughter of one of the novel's main characters, Dr. Lim Boon Keng, who was an important figure in the shaping of Singaporean history. He was a physician, but he also published the first Chinese magazine in the Straits and founded a school for girls in Singapore in 1899 - a time when most Chinese girls did not receive an education – among other achievements.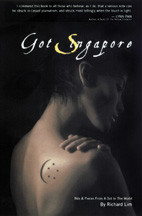 Last time Ralf was in Singapore, it must have been in 2005 or so, he brought back Got Singapore, a collection of essays and columns written by the Singaporean journalist Richard Lim and which I enjoyed very much. Richard Lim writes about anything and everything related to Singapore and its people, and there is also a section called A Life in Books! 
The Scholar and the Dragon has been published by Epigram Books, an independent publisher based in Singapore. See their website for many more Singaporean titles:
http://www.epigrambooks.sg/category/fiction/ 
While looking up a few facts for this piece, I also stumbled upon the website for the Singapore Writers Festival which will take place 31.October – 09. November 2014…
https://www.singaporewritersfestival.com/