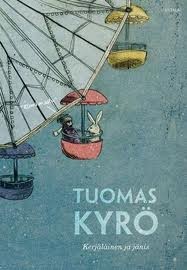 Tuomas Kyrö
Kerjäläinen ja Jänis
2011 Siltala 
Received this book from my friend Paula while in Lapland in March, but didn't begin reading it until late April. Just a few days later, on April 24th, there was a long book review in the Hamburger Abendblatt and a note that Tuomas Kyrö would be reading that evening in Hamburg!  Such coincidences must not be ignored and so I made a spontaneous trip into the city that evening, to the very cool theatre bar Nachtasyl where Tuomas Kyrö kept a large audience – the bar was completely full - entertained with both his reading and his comments and answers to questions.  The German translator of the novel, Stefan Moster, hosted the evening and interpreted fluently throughout. 
Here is the English language description from the WSOY site, where you can also read a short sample from the text itself.  In English it is called The Beggar and the Hare (translated by David McDuff) and in German Bettler und Hase.
Vatanescu, a Romanian, wants a future for himself and pair of cleats for his son. So off he goes to a cold, dark country to beg. Vatanescu knows a little about Finland from the novels of Arto Paasilinna, but the place looks pretty different when you're kneeling on the asphalt.
Continuous cold and endless hunger momentarily give way when Vatanescu and his fellow beggars throw a sumptuous feast from the contents of a dumpster. However, their employer, the Russian human trafficker Jegor Kugar, profoundly disapproves of this bacchanal. A conflict ensues, as a result of which Vatanescu must evade both international criminal organizations and the Finnish police. Our hero strikes up with a fellow fugitive, a hare that has been sentenced to death for the crime of living within Helsinki city limits. Their shared journey takes the beggar and the hare first to Lapland as berry-pickers, then to the National Idea Park construction site – and eventually to the upper echelons of Finnish politics.
The Beggar and the Hare  is a fast-paced and warm-spirited satire about Finland and Europe, the rich and the poor, alms, ideologies, and mercy. Kyrö's bite is as keen as ever. Folks we meet along the way include the Chinese cook Ming, the old Finnish codger Harri Pyk­ström, and the Estonian construction worker Öunap. As a special treat, the country's leading populist politician, Simo Pahvi, makes a guest appearance.
http://foreignrights.wsoy.fi/products/fiction/show/205421