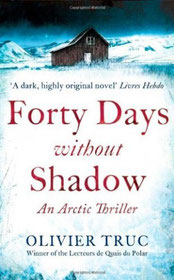 Olivier Truc
Forty Days Without Shadow / Viimeinen Saamelainen
(original: Le Dernier Lapon)
Received this novel in Finnish (Viimeinen Saamelainen) for Christmas from my friend Liisa. It takes place in Kautokeino, Northern Norway, in the heart of winter, just when the sun begins to show itself again after forty days of near darkness. Klemet Nango, a reindeer policeman and his partner, Nina Nansen, investigate the theft of a shamanic drum which has been stolen from a local museum right before it was to be put on display. Shortly afterwards, a local reindeer herder is killed and his ears cut off. Klemet and Nina are sure that the the two incidents are related, but much is being covered up as politicians, nationalists, sami citizens and the visiting French geologist all follow their own interests.
Reading this book in the dreary grayness of Northern Germany's not-quite-winter was frustrating. I too wanted desperately to be in Northern Lapland where temperatures can fall to -40°C, winters are dark, population sparse and where distances take on an entirely new meaning.
A fascinating and smart read.