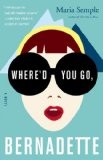 Maria Semple
Where'd You Go, Bernadette?
What a cool, clever, funny and beautiful story!
Bernadette used to be a promising architect in L.A. but has been living more or less as a recluse for the past twenty years in Seattle, using Delhi Virtual Assistants Internt'l to take care of everything she needs. Her husband, Elgie, works at Microsoft and daughter Bee attends a private middle school, where Bernadette is loathed by the other mothers. One day Bernadette disappears without a word, without a trace, shortly before the family is due to travel to Antarctica.
There is really no way to describe the story without spoilers, so just trust me. Buy it, borrow it, whatever - just read it! The dialogue is hilarious.