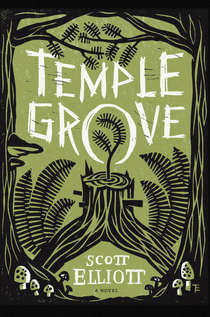 Scott Elliott
Temple Grove
University of Washington Press, 2013 
Received this one from my mom for my birthday. Part of what I loved about this novel was the perfect setting; The Olympic National Park in Washington State, surely one of the most beautiful places in the world with its rugged Pacific coast, Hoh Rainforest and mountains. Add a cast of sympathetic (and some not so) characters, stir in some Makah traditions and tell the story using beautifully crafted sentences - and there you have one of my favorite books from 2013.
Text from book jacket:
Deep in the heart of Washington State's Olympic Peninsula lies Temple Grove, one of the last stands of ancient Douglas firs not under federal protection from logging. Bill Newton, a gyppo logger desperate for work and a place to hide, has come to Temple Grove for the money to be made from the timber. There to stop him is Paul, a young Makah environmentalist who will break the law to save the trees.
A dangerous chase into the wilds of Olympic National Park ensues, revealing a long-hidden secret that inextricably links the two men. Joining the pursuit are FBI agents, who target Paul as an ecoterrorist, and Paul's mother, Trace, who is determined to protect him. Temple Grove is a gripping tale of suspense that captures in taut, luminous prose the traditions that tie people to this powerful landscape – and the conflicts that run deep among them.