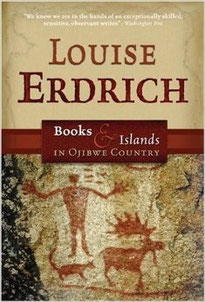 Louise Erdrich
Books and Islands in Ojibwe Country
National Geographic Directions 2003, 141 pages
This is a mini road trip through islands, books, nature, Ojibwe words, traditions and myths.
To the enormous Lake of the Woods in Minnesota and Ontario with about 14,500 islands, some of which have rock paintings. And then to Mallard Island on Rainy Lake where the adventurer Ernest Oberholtzer built a number of houses and filled them with more than 11,000 books.
Louise Erdrich travels to these places with her new baby and a stack of books. She writes about her observations, teaching the reader much along the way. I like her dry sense of humor, for example as she writes about her baby picking blueberries (miinan) straight into her mouth. "I show her how. This is the one traditional Ojibwe pursuit I'm good at."
She reads Austerlitzin a cheap roadside motel, explains a bit about the Ojibwe language (Mazina'iganan is the word for books…:-)), and deftly blends traditional and modern life, slowing down to look at and contemplate things, making everything somehow matter. I could easily begin reading this book again immediately.
Other books by Louise Erdrich that I have read are: The Crown of Columbus (written together with Michael Dorris), Tales of Burning Love, The Painted Drum, and Shadow Tag.