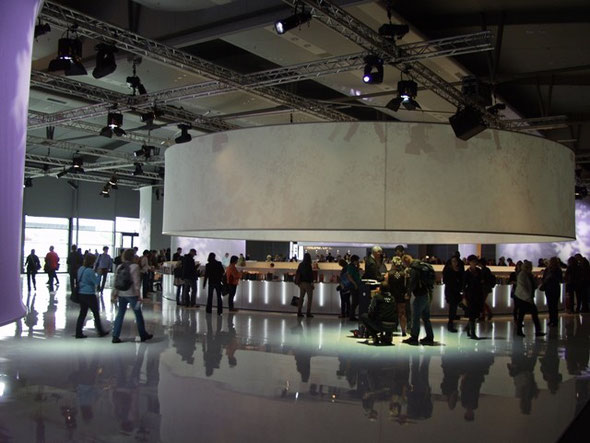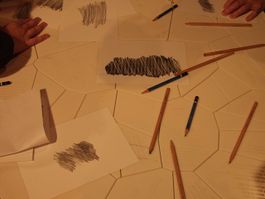 My first feeling was that of panic.
7000 exhibitors with who knows how many thousands of new books.
Over fifty Finnish authors were present in Frankfurt this year and 130 Finnish books have been either translated or re-translated into German in time for the big event, and a quick perusal of the catalog made it clear that I have read less than twenty of them (well, plus the Moomins and Mauri Kunnas books.)
Once I started to walk around, panic was, of course, quickly replaced by excitement. SO many new books to discover! Almost made me hop around like a kid in a candy store.
I spent most of Thursday and Friday in the Finnish pavilion with its gleaming white floor and round tent-like islands, one of which contained a stage for author interviews and performances. Another one, called Recollected Writings, had a large table covered with various bits of text and poems carved into mosaic tiles and visitors could use pencils to rub text fragments onto paper to take home with them. Then there was Brain Poetry – a poetry generator which produced poems using the visitors' brain waves, either in English or German. By (Swedish for 'village') contained little houses designed by children's book illustrators. A second stage near the Finnish Café was also in nearly constant use (listeners seemed to especially like the white rocking chairs). Finnish books in various translations and a circular bench were in the middle.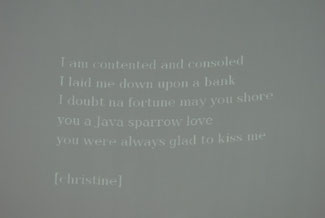 The colors literally cooled the pavilion (the motto was FINNLAND.COOL) and it often felt like a refreshing oasis when returning from the crowded halls and hectic pace of the rest of the fair.
Gin long drinks and salmiakki koskenkorva were among the drinks passed out during happy hour at 17:00 each day.
I only wish there had been more places to sit in there and I also think they should have sold Finnish originals as well as the German translations. The pavilion was teeming with Finnish speakers from all over Germany (DFG, the German Finnish Association, had even organized busses to take members to Frankfurt!), and I know I wasn't the only one who would have bought a bagful of books in Finnish had they been available.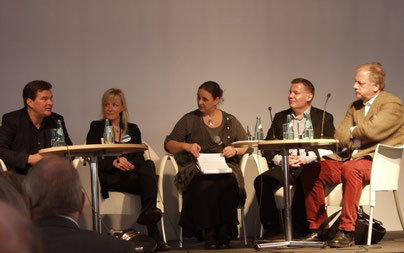 Finnish Crime
On Friday I listened to four popular Finnish crime authors speak about their newest books and about how the (literary) crime scene has changed in Finlandand become more international over the years.
When asked whether the image of the anguished Finnish detective finding solace in the woods was on the wane, two of the authors immediately admitted falling under that category at times themselves…
The hour passed by quickly and was quite entertaining. The four books introduced were:
Taavi Soininvaara
Valkoinen Kääpiö (German: Tot)
Fourth book in the Leo Kara series. (He has also written ten books in the Arto Ratamo series.)
International thrillers dealing with current political, technological, and economic issues. When asked how he came up with his ideas, he shared some very interesting anecdotes about things which have actually happened but which have not received more than a passing nod in the media. He also said that none of the experts in Finland who he consulted, ever refused to give him information, no matter how odd the question.
Kati Hiekkapelto
Kolibri (German: Kolibri)
Kolibri is her first novel and the detective is a Hungarian minority from Serbia(the author herself has lived in that part of the world and speaks Hungarian as well). One of the other main characters in her novel is a Kurdish girl.
Kati Hiekkapelto said she believes that women living in countries where genders are equal should in some way help women who live and suffer where misogyny is prevalent. This novel is now on my 'to buy' list for my next trip to Finland…
Pekka Hiltunen
Sysipimeä (German: Das schwarze Rauschen)
Second book about two young Finnish women living in London who are part of the 'Studio-Team', a sort of independent crime solving group. Hiltunen talked about how he loves to research and writing gives him a good excuse to learn about things like pathology or hacking. At the end he said that his third novel has a couple of German characters, so he was observing people during his stay here in Frankfurt and warned the audience that you never know - maybe one of them would end up in his next book… Hiltunen said he chose two women as his characters because he is fascinated by strong Finnish women, having been surrounded by them all his life. Strong in a quiet somewhat introverted fashion yet not averse to partying and drinking heavily at times.
Matti Rönkä
Mies rajan takaa (German: Finnische Freunde)
First three of the Victor Kärppä series in one book.
Matti Rönkä said that he quit writing about Kärppä after the seventh book, so that the poor detective would stay alive!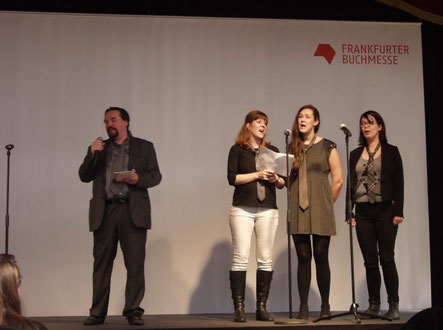 Turku Live – Poetry
Sponsored by the city of Turku, poets Juha Kulmala, Katariina Vuorinen, and Esa Hirvonen with Trio Plikat together with the German poet Dirk Huellstrunk put on quite the show. Later in the day they were joined in a second performance by poet Harri Hertell from Helsinkias part of the 'Sweat and Poetry Tour' through Germany (which in some places involved a sauna on wheels…)
Juha Kulmala and Esa Hirvonen organize the Runoviikko (Poetry week) in Turku– which is coming up in November (7.-16.11.2014)
During the first performance, listeners also had the opportunity to have a 'poetry portrait' done of them. These are portraits painted in words, something that the Writersgroup Tapir has been doing since 2005, mainly in institutions such as hospitals, prisons and retirement homes.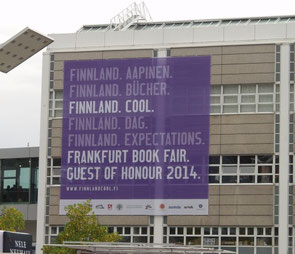 Speaking of poetry… although I rarely read any, I do love watching it being performed, as was the case with the poets from Finland.
And the best way to start the day at the Frankfurt Book Fair in any case, is by going to the Wake-Up Slam. Each day two different artists had the opportunity to perform a few of their works for a total of 20 minutes (all in German).
Another event Christiane and I watched for awhile was one where four translators had to translate various English sentences into German – with help from the audience if someone happened to have a better idea.
One example was this sentence:
The sun shone, having no alternative, on nothing new. (From Samuel Beckett's Murphy)
This was one of the easier ones…
Even though I spent what seemed like hours wandering through the halls looking at books, I was only able to inspect a fraction of what was displayed. Still I ended up scribbling a total of 84 titles into my notebook, twenty of which were new Finnish books, and three of these I was able to buy on the last day of the fair. (Disgruntled unfriendly people working at the Finnish booths on Sunday afternoon though, obviously annoyed by people disturbing them with questions and wanting to buy books...) 
See below for more impressions of the Frankfurt Book Fair and the Finnish Pavilion.