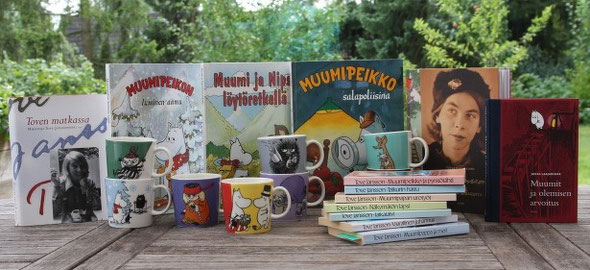 Tove Jansson and the Moomins. It is impossible to separate the two names, but having recently read a new biography about one of Finland's most famous artists I realize how much more there was to this fascinating woman. The Moomins came later, after she had studied art and began to illustrate and paint.
Tove's most important maxim was freedom. Freedom to live and create as she wanted to. She realized quite early that a husband and children would be a hindrance to her as an artist, for they would drain away too much of her time and energy. She was quite bold for her times, taking lovers (at least at one point she had two) of both sexes and in general living her life the way she wanted to and not according to society's expectations.
Tove came up with the first Moomin characters before the war and wrote the first Moomin book Muumit ja suuri tuhotulva (The Moomins and the Great Flood) during the Winter War (1939/40) which was then published in 1945. This was the first of numerous books and comics, and of course since then there has been a great flood of Moomin merchandise from DVDs to textiles, toys and mugs to name just a few. (She wrote in Swedish, but I have listed the titles in Finnish and English here.)
Of the paintings depicted in the biography, my favourite was one called Talviyön sudet, painted sometime in the 1930s.
The photo shows the following:
Three Moomin picture books
Muumipeikko ja pyrstötähti (Comet in Moominland)
Taikurin Hattu (Finn Family Moomintroll)
Vaarallinen Juhannus (Moominsummer madness)
Taikatalvi (Moominland Midwinter)
Näkymätön lapsi (Tales from Moominvalley)
Muumipapan urotyöt (The Exploits of Moominpappa)
Muumipappa ja meri (Moominpappa at sea)
Tove Jansson. Tee työtä ja rakasta by Tuula Karjalainen (more information here)
Toven matkassa. Muistoja Tove Janssonista. Toim. Helen Svensson
(Essays on Tove Jansson by various people who knew her)
Muumit ja olemisen arvoitus by Jukka Laajarinne (explores philosophical ideas using the Moomins as examples. Wonderful book!)
And about half of the Moomin mugs in our house…
If you are in Helsinki this summer, you can visit the Tove Jansson exhibition at the Ateneum Art Museum until 07.09.2014.
All Things Moomin Blog: http://blog.moomin.com/search/map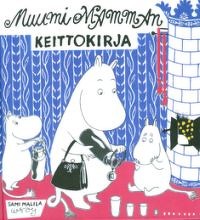 ...almost forgot this one:

Sami Malila

Muumimamman Keittokirja

available in English: Moomins Cookbook